Brand: Sampsukka
Merinowool collar, black
Product ID: 4805
18,99€
Available now Clothes: 100 days to return
EU countries: Free delivery on all orders over €200
Couldn't find the size or quantity you want and would like to know when available? Subscribe the announcement.
Merinowool binds heat better than regular wool and is made of finer fibers, so it also warms better. An elastic, non-itchy Merinowool clothes is the best choice for children. Merinowool does not require machine washing because of its antibacterial properties. Only aeration is sufficient, if necessary it can be washed at 30 degrees with a wool wash program. Merinowool is ÖkoTex 100 certified, which guarantees that no harmful substances are used and is therefore a safe choice for sensitive children's skin.
100% merinowool

Feels warm and comfortable

Only one-size
WARM THE NECK

Merinowool collar gives protection to the neck even in the toughest frosts. Elastic and cushioned material is a favorite among children. Easy to put on!


Merinowool: weight 250 g/m², content 100% merinowool


MULESING-FREE MERINOWOOL
The collars are made of organic merinowool, which is mulesing-free. Best of all, the necklaces have only one size! The recommended age for collectors is 1-5 years.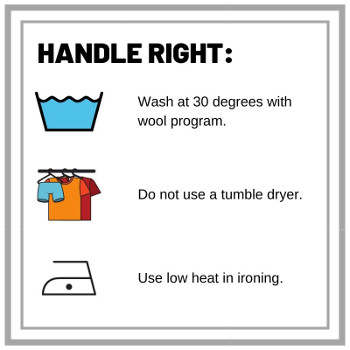 One size: 1-5years
There are currently no product reviews.
Rate a product you bought and get a 15% off discount code.
Write Review