Miesten paita, Sporttiautot
Product ID: 9800
45,50€
Available now Clothes: 100 days to return
EU countries: Free delivery on all orders over €200
Couldn't find the size or quantity you want and would like to know when available? Subscribe the announcement.
Tässä paras jokapäiväiseen käyttöön tarkoitettu t-paita. Ei miestenkään tarvitse tyytyä tylsiin vaatteisiin; tässä paidassa riittää vauhtia ja värejä. Sampsukan vaatteet on ommeltu 100% Suomessa. Lisäksi vaatteille on myönnetty Avainlippu-merkit. Paidat valmistettu erittäin pehmeästäÖko-tex- sertifioidusta trikoosta. Trikoo sisältää puuvillaa ja elastaania. Elastaania hieman siksi, että se tuo vaatteeseen joustavuutta, kestävyyttä ja auttaa säilyttämään muotonsa.


Trikoo: paino 200 g/m², sisältää 95% puuvillaa ja 5% elastaania
Apua kokovalintaan
Koot vastaavat hyvin todellisuutta, istuvuus kuten normaalisti t-paidoissa. Tuotekuvien alapuolelta löytyy myös tarkempi kokotaulukko mittatietoineen.


Turvallisuus
Kuviotrikoolla ja myös resorilla on Öko-tex 100 -serifikaatti varmistamassa, ettei haitallisia aineita ole käytetty. Näin pystymme turvallisin mielin valmistamaan iloisia ja värikkäitä vaatteita.



Tiesitkö, että huuhteluaineet saattavat heikentää elastaanin joustoa? Tämän vuoksi emme suosittele niiden käyttöä.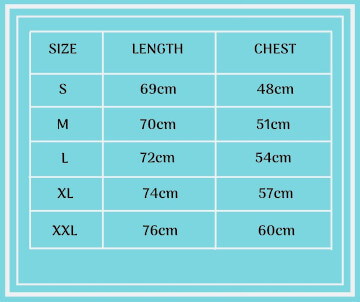 There are currently no product reviews.
Rate a product you bought and get a 15% off discount code.
Write Review