Yksisarvinen&prinsessa -trikoo
Product ID: PAN1
2,32€
1,80€
Available now Clothes: 100 days to return
EU countries: Free delivery on all orders over €200
Couldn't find the size or quantity you want and would like to know when available? Subscribe the announcement.
Kuviollinen trikoo.
Hauskoihin vaatteisiin!
Materiaali: 95% puuvilla, 5% elastaani. ÖkoTex 100 -serifioitu.
Leveys: 150cm
Pesu: konepesu 40 °C, ei rumpukuivausta.
Kutistuvuus: 5-10%
Neliöpaino: 200g
Ominaisuudet: Pehmeä, ihoystävävällinen
Yksi paneeli n. 70cm korkea eli myydään vain 70cm välein! Tilatessasi 70cm, kankaassa siis kolme kuvaa (jokainen n. 70x50cm). Voit siis tilata 70cm, 140cm, 210cm jne.
Tilausyksikkönä 10cm, tilatessasi 7kpl saat kangasta 70cm.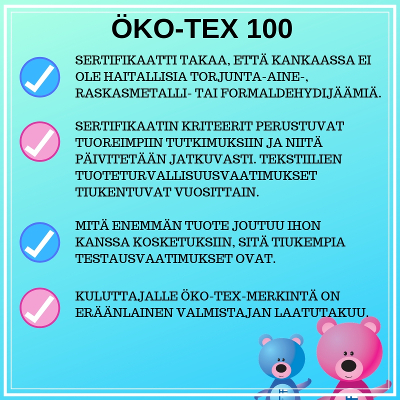 Tiesitkö, että huuhteluaineet saattavat heikentää elastaanin joustoa? Tämän vuoksi emme suosittele niiden käyttöä.
There are currently no product reviews.
Rate a product you bought and get a 15% off discount code.
Write Review